Thompson Center
A new approach to historic preservation and adaptive reuse for Helmut Jahn's James R. Thompson Center.

The Thompson Center is an icon of Chicago's architectural heritage and a unique and vital contributor to the city's urban fabric.

We see the abstraction inherent in the building's creation, in both form and image, as an important example of postmodern architecture, and one deserving of careful preservation to positively recalibrate its future use and role in redefining civic space in the Loop.
We propose an intervention where a new thermal envelope is offset inboard in both plan and section from the existing curtain wall. This frees the existing façade from its responsibility as a weather barrier.
Offsetting the public use of the building in section allows the ground plane to become a public park, open on all sides. This park becomes a gateway to a new vertical extension of the Loop, comprised of a mix of dynamic programs that gradate from public to private as one moves up the building. Zoned by floor, it provides an opportunity for small scale development in the heart of the Loop.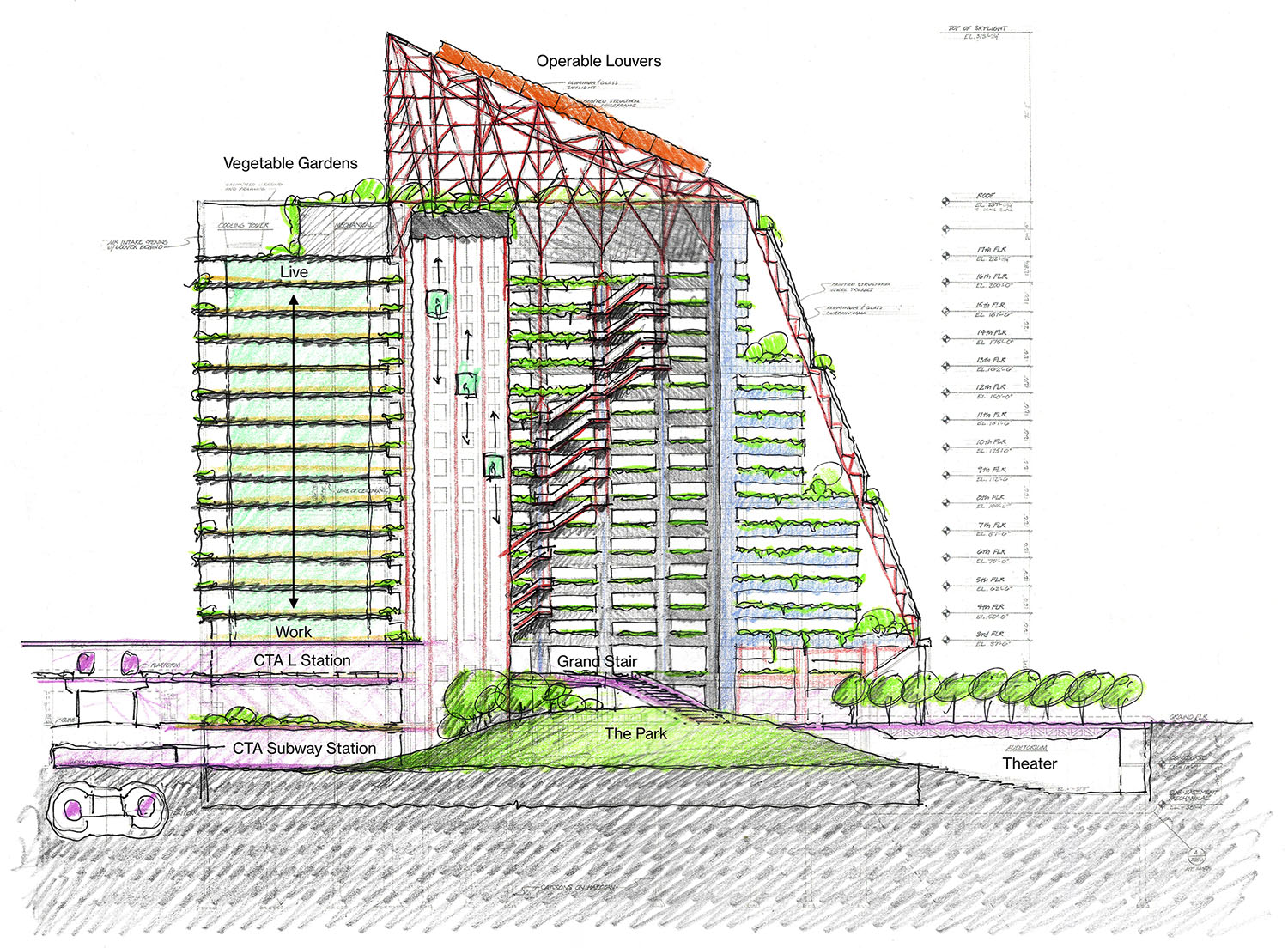 The roof plane becomes a series of vegetable gardens for residents and restaurants below. Operable louvers replace the existing glass roof over the atrium and are opened in the summer to promote cooling natural ventilation and closed in the winter to provide supplemental heating.
Existing retail on the ground floor gives way to a new urban park that includes a grove of trees to contrast the height of the atrium and covered outdoor seating areas. A gentle grassy hill rises from the old food court, providing a place to gather and serving as an unexpected gateway to the Loop for those arriving via L or subway. A new grand stair invites the public to the upper floors.

Press

Thompson Center
Location

Chicago, Illinois
Team

Tom Lee, AIA
Christopher Eastman, AIA

Photography
Rainer Viertlböck